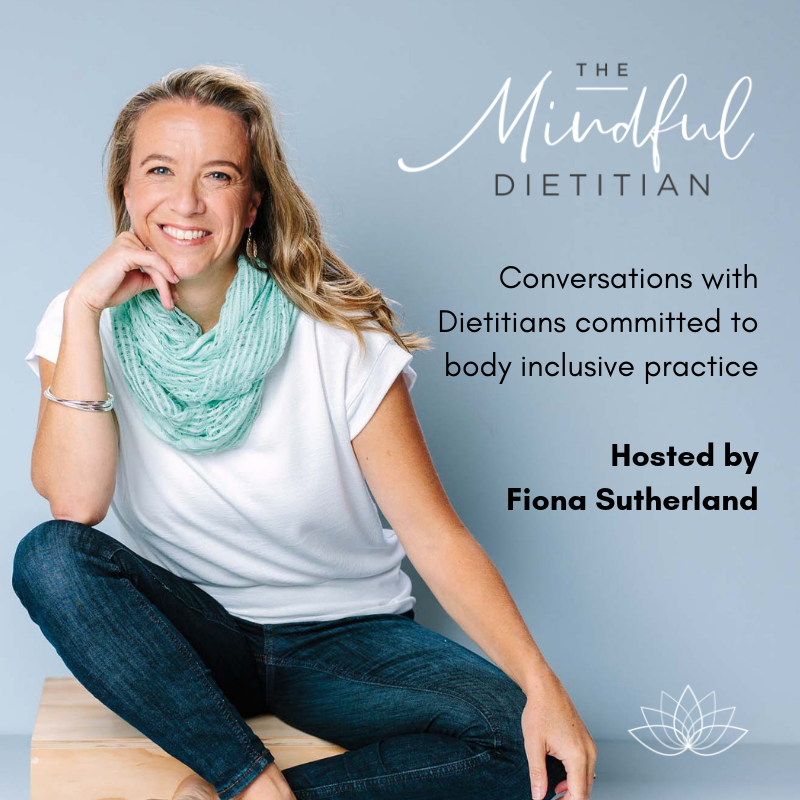 Jenna Hollenstein on compassion and witnessing the evolution of Dietetic practice, asking "is this a tipping point?"
Jenna shares witnessing a new mood, observations of the current tipping point, the importance of compassion as we evolve as clinicians and as we witness the evolution of others, what compassion is and isn't and how we embrace it, mindfulness and meditation; the notion of acceptance, making connections and a new training opportunity available for dietitians. 
Here Fi and Jenna speak about:
Living in NYC; its overstimulating nature and rich diversity with many opportunities for observation.

Attending the 2019 FNCE; 'The Superbowl for American Dietitians' and its significantly different presence.

The current tipping point within the dietetic community and profession - the hunger for IE and HAES exposure from students and dietitians early on in their careers.

Why its important to enact self-compassion and not turn to self-aggression as we evolve and change.

The misconceptions of self-compassion; 

What it really is and what it isn't.

The need to balance feminine and masculine qualities.

How we can embrace self-compassion through this environmental shift by being conscious and aware of our evolution and the evolution of others. 

Compassion VS Idiot Compassion; understanding the complexities of the human experience and the need to call out / call in – and knowing it's not easy! 

Mindfulness in practice through connections and the notion of acceptance.

Teaching the

Open Heart Project Meditation Instructor Training with Susan Piver

and a new meditation instructor course just for dietitians – watch this space!
As mentioned in the podcast:
FNCE 2019: 247. Intuitive Eating: What Every Registered Dietitian Nutritionist Needs to Know
Dr Kristin Neff – Self Compassion
Open Heart Project Meditation Instructor Training with Susan Piver
Find Jenna:
More about Jenna:
Jenna Hollenstein, MS, RDN, CDN, is a non-diet dietitian who helps people struggling with chronic dieting, disordered eating, and eating disorders. She uses a combination of Intuitive Eating, mindfulness techniques, and meditation to help her clients move toward greater peace, health, and wellness. Jenna's private practice is located in New York City where she consults with clients in person and virtually. Jenna is a Registered Dietitian Nutritionist (RDN) and a Certified Dietitian Nutritionist (CDN) in New York State. She has a Bachelors degree in Nutrition from Penn State, a Masters degree in Nutrition from Tufts University, is a Certified Intuitive Eating Counselor and an Open Heart Project meditation guide. In 2018, Jenna joined the board of The Center for Mindful Eating. Jenna teaches at mindfulness retreats in the United States and France. She has been featured in U.S. News & World Report, Health, Mindful, Vogue, Elle, Glamour, and Fox News. Jenna is the author of Understanding Dietary Supplements, a handy guide to the evaluation and use of vitamins, minerals, herbs, and botanicals for both consumers and clinicians, and the memoir Drinking to Distraction. Her third book, Eat to Love: A Mindful Guide to Transforming Your Relationship with Food, Body, and Life, was published in January, 2019.