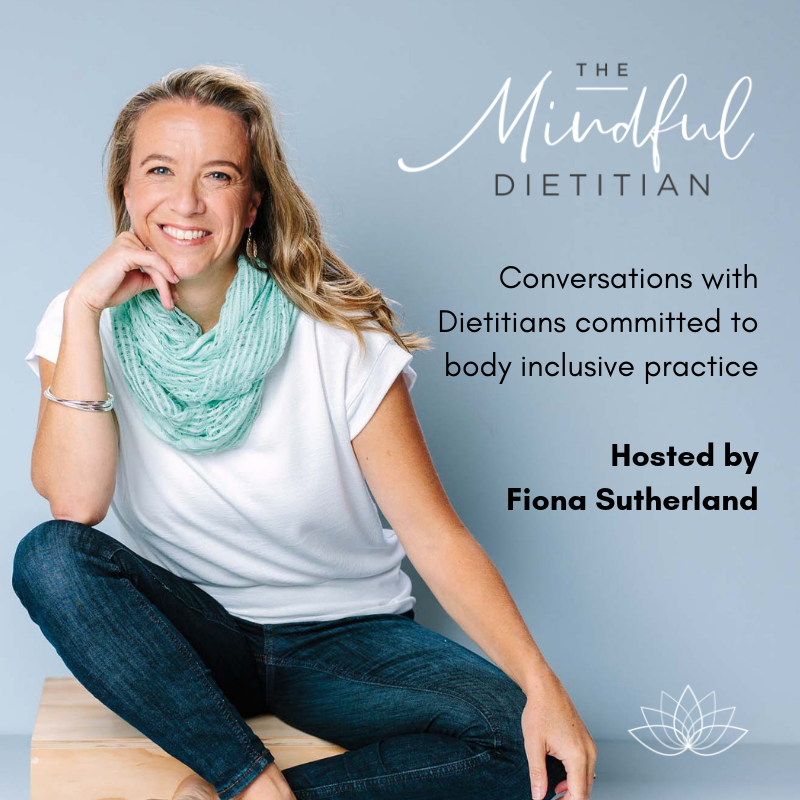 Meghan Cichy on HAES-aligned Medical Nutrition Therapy & Fat Positive Dietetic practice
Here Fi & Meghan speak about:
The establishment of Creating Peace with Food, and multi-disciplinary Rooted Heart Healthcare, sharing space with other like-minded providers.

How guiding values can form the core of a healthcare team

Why providing a safe space for clients is so important

What does being a "Fat Positive" provider mean?

The importance of authentic allyship so that we can offer care and services that are body-affirming

Practical tips to move in a more affirming practice direction

How to elevate the experience and perspective of those with lived experience

The development of the Health At Every Size (R)-aligned MNT resources (see links below to download!)
Find out more:
Instagram and Facebook: @creatingpeacewithfood
Facebook: @meghancichyrdn
As mentioned in Podcast:
Google Drive for HAES & MNT Handouts
Body Trust Summit (March 2020)
Becoming Eating Disorder Aware Training Series (Jan 2020)
More about Meghan:
Meghan (she/her) is passionate about working with her clients from a weight neutral, Health at Every Size ® perspective and believes in self-compassion as a foundation for re-building trust, connection, and confidence with ones own body. Meghan is a traditionally trained dietitian, however, her philosophical approach to nutrition counseling is anything but. She focuses on centering her clients as an expert in their own explorations and healing process, and supports her clients in building connection and confidence in their own innate intuition. Meghan believes that all bodies, regardless of size, shape, color, ability, age, or gender identity deserve access to respectful and high quality care. Her work with clients incorporates weight neutral approaches to self care utilizing a Health at Every Size approach. She works with her clients to support them in defining health for themselves and dismantling the idea that health is a moral obligation. Meghan also recognizes that her clients needs are vast and diverse. She takes the time to consider the big picture of her clients' lives and lived experience in order to best support her clients in their food and body healing work. She utilizes a flexible approach to food and eating grounded in reconnecting to hunger, fullness, appetite, satiety, and pleasure. Meghan is a Certified Eating Disorder Registered Dietitian (CEDRD) and is currently working towards her Body Trust certification. She enjoys working with clients who are interested in healing and strengthening their relationship with food and their body. Because Meghan recognizes that everyone comes to this work at a different point on the body liberation continuum she is eager to meet her clients where they are and enjoys walking the path along side them. Meghan's personal life aligns with her professional life as she finds great joy in supporting her preschooler and infant in discovering the wonder of their body and pleasure in their eating. Her recreational reading leads her to deeper dives into social justice and anti-oppression work, and she finds joy in spending time in the outdoors and engaging in group movement like hiking and soccer.